Volvo Ocean Race and The Magenta Project, Team up to Provide Offshore Opportunity for Women
Photo Credit: Pedro Das Neves




The Volvo Ocean Race
and

The Magenta Project

(TMP), recently teamed up to provide a dream opportunity for 5 female, future ocean racing sailors. The platform provided was non other than Scallywag, the Volvo Ocean Race one design 65', fresh from the 45,000 nautical mile racecourse of sailing around the planet.
After the incredibly iconic finish of the 2017-18 race in to Holland, most of the ocean racing vessels needed to be moved back to their resting place in Lisbon, Portugal. The Magenta project saw this as a fantastic opportunity to provide some offshore experience to a few ladies who wouldn't otherwise have an opportunity to sail on a racing sailboat of this size. The Magenta Project has a simple mission statement, "To accelerate women to the top of sailing." They do this by
creating equal access and opportunities for women in sailing and byworking with a wide range of individuals and organizations to make that happen. It was started in 2015 by members of the all female 'Team SCA' who successfully competed in the 2014-15 Volvo Ocean Race campaign.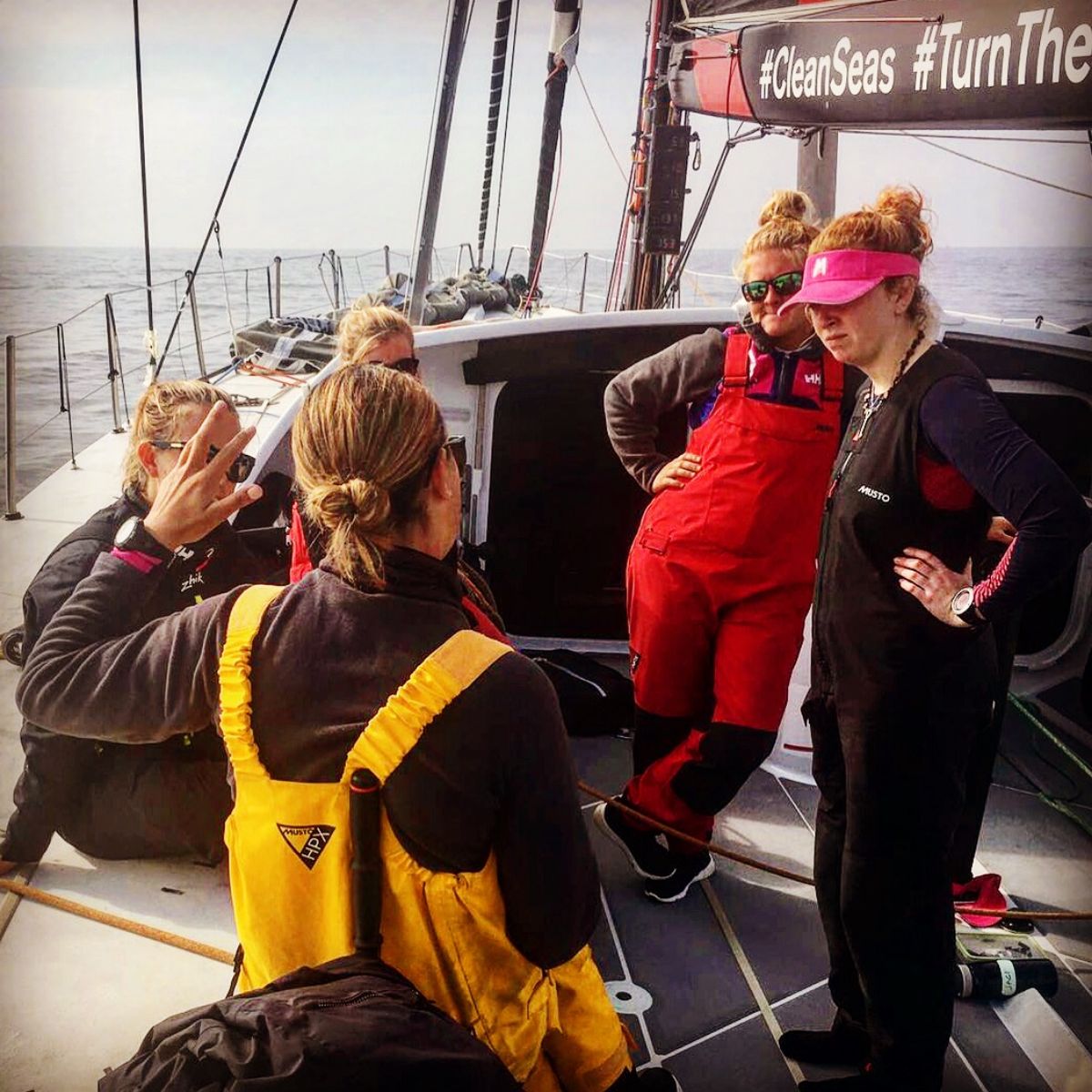 As a former member of Team SCA, I was asked to represent TMP onboard as a watch captain and coach amongst the 11 crew members. The crew was skippered by Antonio Fontes, sailing member of Team Scallywag and made up of sailors from 7 different countries. We left the Netherlands with a journey of a little over 1,000nm to Lisbon, Portugal. We departed with a "triple headed" sail combination with wind speed in the high teens. With a relatively flat sea state, we coasted through our first night, slaloming between ships in one of the busiest waterways in the world. The night was full of gybes and traffic, a great introduction in to the most common form of torture offshore; lack of sleep.
The morning sun brought site of the stunning white cliffs of Dover on the south coast of England. Navigation continued to prove busy as we dodged wind farms and local fishing vessels. Our journey down the English Channel saw a wind shift, bringing the wind on the nose as we edged toward France. There is a lot to be said about delivery trips...They are such a fantastic learning opportunity. It's the number one piece of advice I give aspiring sailors, "do as many deliveries as you can." You are usually on deck with less people than normal and have the chance to dabble in many positions onboard, driving, navigation, sail trim, sail changes... You imagine in a racing setting for a young, inexperienced sailor, their only job could be to sit on the rail and pass up water bottles. Deliveries allow you to learn and ask questions with out the pressure and objectives of racing. Maneuvers can be slowed down and done in a safer way in order to promote learning and opportunity.
Another wonderful quality about deliveries is the opportunity to embrace the slower pace vs. racing. You have time to chat and get to know people onboard, you have time to stare at the sunset instead of the numbers, and when a pod of dolphins arrive, you can move your weight anywhere you like on the boat for optimal viewing! I can't say the same for high caliber ocean racing where all the focus is given to performance.
The young ladies onboard were introduced to as much as possible over the 5 day voyage. They particularly mastered the art of preparing freeze-dried meals- a skill many have failed at. But truthfully, they were driving, in the pit for every maneuver, on the bow for sail changes, bailing out the bow of the boat as we bounced along and learned how to deal with the intricacies of self maintenance and living offshore.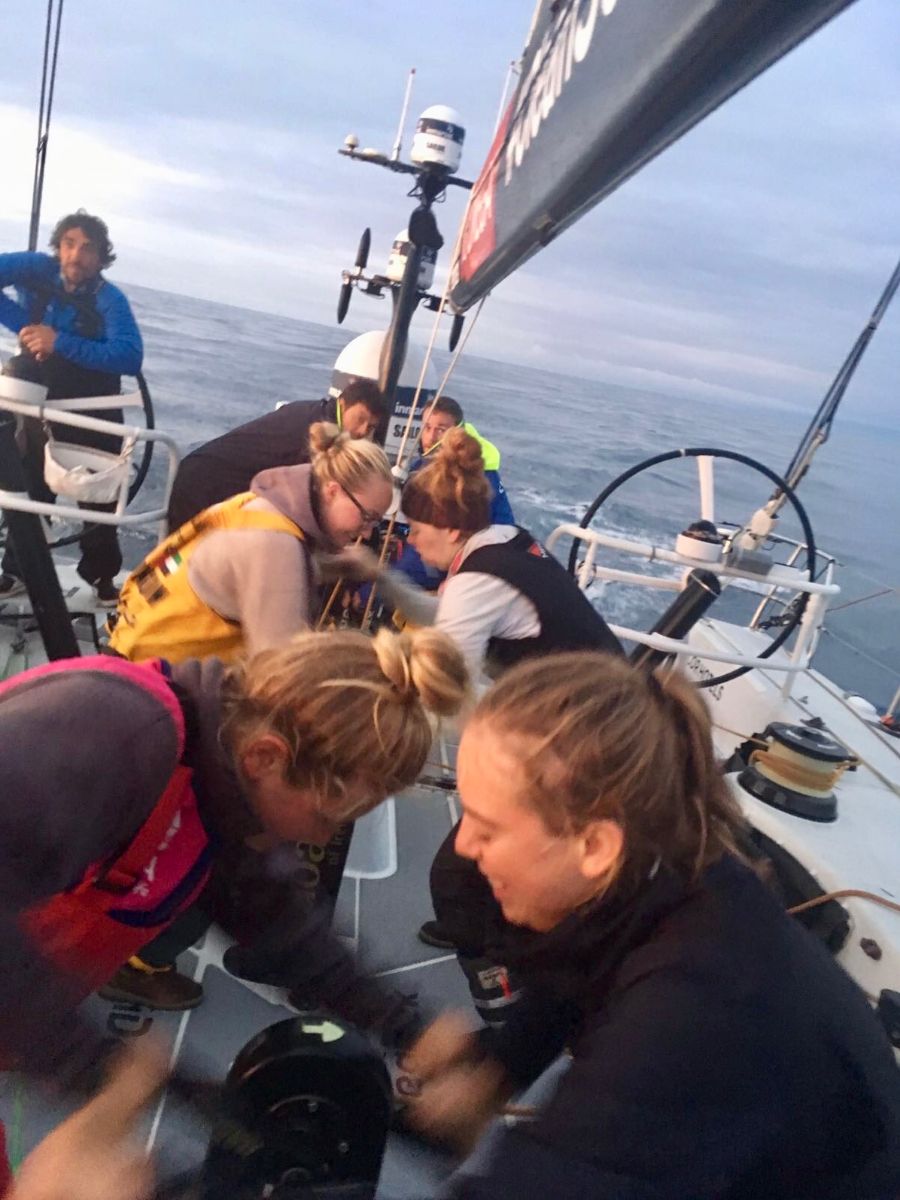 It was a privilege for me to be a part of this moment in the longer journey for women in sailing. I'm very grateful to the Volvo Ocean Race for providing us their incredible racing vessel and for the vision of the Magenta Project to seize this chance. May the opportunities continue for females in this sport as we strive to close the experience gap.

Sail On,

Sara Hastreiter
For more sailing photos from our trip, please follow the link https://www.sara.blue/gallery